Oriental Rugs » Tibetan Project
Tibetan Project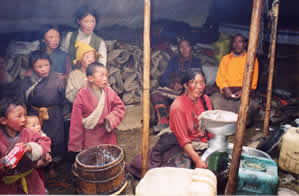 Tibetan Family in Yurt.
The Cultural Survival Tibetan Project, was founded by Chris Walter in 1990. The basis of this project is much like the Ersari Project. It explores the rich heritage of the Tibetan weaving tradition through the use of vegetable dyes, hand carded and hand spun wool.
There are more than 500,000 refugees from Tibet living in Nepal and India. This project seeks to generate funds to benefit this Tibetan community in exile as well as those still living in Tibet. Some of the rugs woven in this project are designed after fine antique Tibetan carpets while others draw their inspiration from designs throughout the traditional and modern worlds.
This project has been a huge success with the building of a number of schools with food programs for students in Nepal and India. Most recently, there have been various projects taking place in Tibet itself such as establishing fruit orchards and reforestation projects. The biggest project to date is a school for 210 students, which was recently built in the Chungba Valley in Eastern Tibet.
What inspires us about these wonderful Cultural Survival Projects are that all the wholesale proceeds from the sale of these rugs are directly benefiting the rug weaving families and the surrounding communities.
There are over 250 beautiful designs woven in this project with one of our favorites being the "Gaon Naksha"(Below At Left) in which the weavers portray their village life.