Oriental Rugs » Rug Education
Oriental rug washing and drying.
Care Tips for Oriental Rugs
Hand-knotted Oriental rugs have been a prized possession of people worldwide for centuries, with the oldest rug known, the Scythian Pazyryk, woven over 2400 years ago. At The Magic Carpet, we specialize in Oriental rugs that are hand-knotted with age-old weaving methods using hand-carded, hand-spun and vegetable dyed wool. Rugs like these are valued for their durability, warmth and extraordinary beauty, and they can last generations if properly cared for.
---
Rugs from The Magic Carpet
decorate a living room.
Decorating with Oriental rugs
For over two thousand years, people have adorned their dwellings, from nomadic tents to royal palaces, with beautiful, durable rugs. Today, these wonderful works of art under foot continue to bring harmony and comfort to our homes. But choosing the right rugs can be an overwhelming task with so much variety in quality, construction and design. Luckily, a basic understanding of what gives value to rugs, and how to select them, is easy to obtain. The Magic Carpet is happy to provide this type of education, and help with your decorating decisions. Let's go on a brief house tour for some modern-day rug decorating tips.
---
A beautiful rug enhances a home.
Why Own an Oriental Rug?
Any ordinary room can be instantly transformed by adding a beautiful Oriental rug. The right rug, with a harmonious balance of warmth, color and design can enrich and enliven any environment. For centuries hand-knotted rugs have been used for comfort and beauty, as well as valued for their durability. Today they endure as a prized component of our interior environment.
---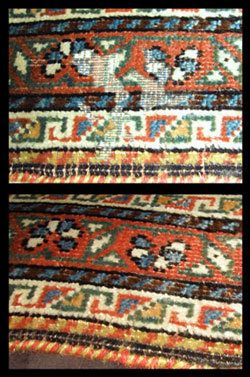 Moth damage before and after
restoration at The Magic Carpet.
Moth or Myth?
In spite of the good care you have always given your Oriental rug, it could happen that one day you notice something unfamiliar about it… little bald spots or channels, bits of loose carpet fibers or light colored filaments. Maybe all of the above. By the time you notice it, your precious rug has been a moth's favorite meal. Moths are very persistent and hungry invaders, and outsmarting them takes some very specific strategies.
---
A magnificent yellow Genje rug
at the Magic Carpet
The Color Yellow in Oriental Rugs.
The color yellow in Oriental rugs has an extensive history, with its vibrant as well as harmonizing qualities. The oldest piled carpet known, the Scythian Pazyryk from the 5th century BC, includes in its decoration yellow ornamental elements in the horses, griffins and border backgrounds. Yellow symbolizes the sun and air, provider of light and life, while it also has been considered an imperial color symbolizing power and glory, at times prized by royalty and the noble class as exemplified in many palace rugs.
---
Barakat Gabbeh rug at The Magic Carpet
with many hues of indigo blue.
The Color Blue in Oriental Rugs.
Often the most spectacular designs in Oriental rugs are those with glowing, contrasting colors. Although in many styles the deep reds that we are familiar with do most of the "talking," it is the other colors surrounding them that make the design come alive. One such contrasting color is blue, or indigo. It is the color that symbolizes mystical wisdom, self-mastery and spiritual realization. Blue also represents the sky, the water, and the journey of the after-life.
---
Madder root makes the vibrant red in
this Vegetable dyed Cultural Survival rug
The Color Red in Oriental Rugs.
Color is a powerful representative of ideals and emotions, and the color red has always been one of the most charismatic ones in the world of Oriental rugs. Red invokes happiness, joy, luck, courage, wealth and a vibrant life force. While in some cases, it represents sorrow and calamity, red is also the color of fire, enthusiasm, virility and faith.
---
Barakat Rug at The Magic Carpet.
The Benefits of Sustainably Produced Cultural Survival Rugs.
The resurgence of traditionally made rugs began in the 1980's with the DOBAG Cultural Survival Project lead by Dr. Harald Bohmer, a chemist who was the catalyst in the re-introduction of hand-carding and hand-spinning wool, as well as the use of vegetable dyes. In 1993 Chris Walter and Habibullah Karimi founded the Barakat Cultural Survival Project based on Dr. Bohmer's research. Because quality rugs had virtually disappeared worldwide, their shared vision was to re-establish the genius of the Afghan weaving culture, while promoting education, especially for women and girls who had been economically and socially marginalized.
---
Barakat project weaver in Afghanistan.
Appraising Oriental Rugs.
Establishing the value of a hand-made Oriental rug is a unique science. A rug's origin, age, condition, and the many procedures that went into its creation all contribute to its desirability and collectability. While there's no substitute for a certified rug appraisal, it's useful and enjoyable to acquire a basic understanding of what to look for when assessing this beautiful art form. Here's some information that we hope will provide a starting point.
---
Kurd weavers moving to summer pastures.
Distinguishing Tribal, Village and Classical rugs.
The Oriental rug world is filled with amazing designs and variations, but when we look at Oriental rugs, we can usually distinguish at least three different main types: geometric designs, floral/curvilinear ones, as well a combination of both.
---
Tree of Life rug -
Barakat project.
Symbols in Rug Weaving: Tree of Life
Since the beginning of time, man has found inspiration, consolation and guidance through symbols. Oriental rugs contain a wealth of symbols, expressing the culture and beliefs of the people who wove them. Although the range of symbols focus on aspects of daily life and the resources needed for survival, they are also filled with elements signifying worship and spiritual devotion. We find these symbols in rugs from Islamic, Christian, Buddhist and Hindu weaving cultures. All of them speak of human values, surrender and faith.
---
The Pazyryk Rug and The Scythians
The Pazyryk Rug captivates our imagination because of its sophistication of weave, color and design and the fact that it is the oldest rug in existence. Found in 1949 on the steppes of Mongolia in a Scythians Prince's tomb, the Pazyryk Rug along with other textiles had been frozen for over 2500 years.
---
Vegetable dyeing -
DOBAG project.
An Age-Old Tradition
The term "Oriental rug" refers specifically to a variety of hand-knotted or hand-woven textiles of natural fiber produced in the vast area stretching from North Africa to China. Included in this territory are Spain, Egypt, Romania, Turkey (Anatolia), the Caucasus, Iran (Persia), Afghanistan, Pakistan, Turkestan, India, East Central Asia, and China. All Oriental rugs are named after the city, village or tribal group from which the designs originated. From each of these settings, one derives different types of rugs.
---
DOBAG weaver tying
knots .
The Art of Weaving
The basic principles and techniques of rug weaving have changed little since ancient times. The materials most commonly used to weave Oriental rugs are sheep's wool, cotton or silk.
---
Collecting weld. Ayvacik 1981
The Virtues of Vegetable Dyes
by Dr. Harald Bohmer
On what is the beauty of natural dyes based? How have synthetic dyestuffs disturbed or even destroyed this palette of colors after breathing into Anatolia more than a hundred years ago? Do we have to return to a pre-scientific era evoking mystic powers of dyeing with plants and beetles — as is nowadays suggested in many booklets dealing with natural dyeing —or do we even have to seek in color the "soul of nature" in order to answer these questions?
---
Chamomile Plant.
Dye Plants in Western Anatolia (Turkey)
by Dr. Harold Bohmer
Producing Blue
Among natural dyes for blue, Indigo has no serious competitors. Beautiful and lightfast - even under desert sun - Indigo has been used for four thousand years. ...
---
More...