---
VIEW FULL COLLECTION
DISCOUNT AND SUPER SALE RUGS
Celebrating our 39th Anniversary!
Enjoy our 20% Off Holiday Sale, November 4th, 2019 through January 15th, 2020! Your purchase at The Magic Carpet helps support Cultural Sustainability Projects and Children's Wellness and Educational Projects in rug weaving countries. Currently we are contributing to the building and sustaining of
several Human Values-based campuses and schools in rural India, through the Prashanthi Balamandira Trust Educare program. There are 19 campuses and 30 schools, with a student body of over 5,000 children. These schools, which offer free education to the poorest of the poor, use a curriculum based on the idea of "Atma Vidya," or, the spiritual education of Self Knowledge. Through an ethos of human excellence, it aims to expose its students to disciplines that instill moral values and inspire strength, courage and confidence, thereby preparing a new generation for a Golden Age of ethical leadership.
With gratitude to friends of The Magic Carpet old and new, we invite you
to join us in celebrating the wonderful world of Oriental rugs!
---
Since 1980, The Magic Carpet has taken great pleasure in providing the community with a unique collection of antique, semi-antique and new Oriental rugs, with a special emphasis on one-of-a-kind tribal rugs. Come in and explore the fascinating world of Oriental rugs and feast your eyes on treasures from the East: Turkey, Russia(Caucasus), Persia(Iran), Afghanistan, Pakistan, India, Tibet, Nepal and China.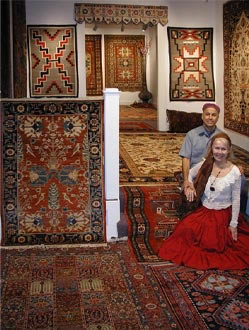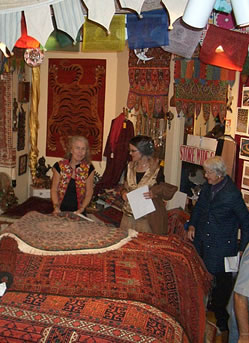 In addition, The Magic Carpet offers:
We look forward to exploring the wonderful art and culture of Magic Carpets with you!
The Magic Carpet
Paul and Eileen Jorgensen
Peter Cohen and Carolien van Straten
---
A Green Investment ~ Rugs For A Lifetime!
If you'd like to be added to our mailing list to receive announcements of future
store events and sales, please follow this link.
---

| | | | |
| --- | --- | --- | --- |
| 03'00"X10'00" | 05'11"X08'09" | 02'06"X09'00" | 06'02"X09'00" |
| 08'00"X09'11" | 04'01"X06'01" | 08'00"X10'00" | 02'04"X04'11" |
| 00'04" | 00'04" | 00'07" | 00'06" |
| 02'11"X02'11" | 01'04"X01'04" | 04'05"X04'01" | 00'90"X00'15" |
| 02'00"X03'07" | 01'02"X01'02" | 00'08" | 02'01"X02'01" |