---
VIEW FULL COLLECTION
DISCOUNT AND SUPER SALE RUGS
The Magic Carpet invites you to celebrate Spring and enjoy a 20% off, storewide sale, through Saturday, June 15th, 2019!
We continue our dedication to supporting the extraordinary art of hand-knotted, vegetable dyed rugs. With every rug sold, we contribute to Cultural Sustainability and Humanitarian Projects that benefit underserved people in the rug weaving world.
This year we focus on supporting the building and sustaining of five pediatric heart health hospitals in Northern India. The hospitals offer free screening and surgeries, while women receive nutritional care through the Divine Child Mother program. With more than 150,000 babies born each year with the life-threatening condition of congenital heart disease, these health programs are a blessing for the rural poor of India.
With gratitude to friends of The Magic Carpet old and new, we invite you
to join us in celebrating the wonderful world of Oriental rugs!
---
Since 1980, The Magic Carpet has taken great pleasure in providing the community with a unique collection of antique, semi-antique and new Oriental rugs, with a special emphasis on one-of-a-kind tribal rugs. Come in and explore the fascinating world of Oriental rugs and feast your eyes on treasures from the East: Turkey, Russia(Caucasus), Persia(Iran), Afghanistan, Pakistan, India, Tibet, Nepal and China.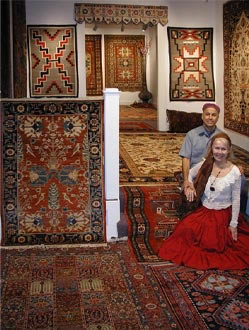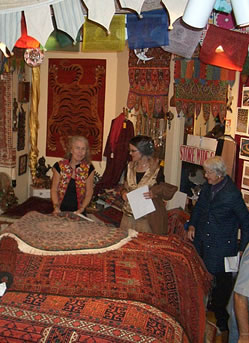 In addition, The Magic Carpet offers:
We look forward to exploring the wonderful art and culture of Magic Carpets with you!
The Magic Carpet
Paul and Eileen Jorgensen
Peter Cohen and Carolien van Straten
---
A Green Investment ~ Rugs For A Lifetime!
If you'd like to be added to our mailing list to receive announcements of future
store events and sales, please follow this link.
---

| | | | |
| --- | --- | --- | --- |
| 02'10"X11'11" | 02'06"X11'10" | 05'00"X07'01" | 01'09"X05'10" |
| 02'08"X13'05" | 04'00"X05'09" | 02'08"X08'01" | 02'02"X03'02" |
| 00'03" | 00'08" | 00'03" | 00'04" |
| 03'00"X03'01" | 02'10"X02'11" | 01'04"X01'04" | 01'04"X01'04" |
| 02'04"X00'05" | 01'10"X02'08" | 02'01"X03'05" | 02'04"X03'05" |