---
---
VIEW FULL COLLECTION
DISCOUNT AND SUPER SALE RUGS
---
Since 1980, The Magic Carpet has taken great pleasure in providing the community with a unique collection of antique, semi-antique and new Oriental rugs, with a special emphasis on one-of-a-kind tribal rugs. Come in and explore the fascinating world of Oriental rugs and feast your eyes on treasures from the East: Turkey, Russia(Caucasus), Persia(Iran), Afghanistan, Pakistan, India, Tibet, Nepal and China.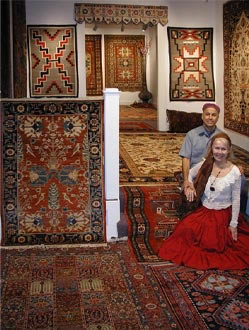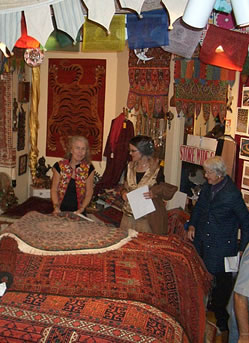 In addition, The Magic Carpet offers:
We look forward to exploring the wonderful art and culture of Magic Carpets with you!
The Magic Carpet
Paul and Eileen Jorgensen
Peter Cohen and Carolien van Straten
---
A Green Investment ~ Rugs For A Lifetime!
If you'd like to be added to our mailing list to receive announcements of future
store events and sales, please follow this link.
---

| | | | |
| --- | --- | --- | --- |
| 03'00"X04'00" | 08'00"X11'06" | 03'00"X05'00" | 08'00"X09'10" |
| 02'08"X03'11" | 05'00"X06'07" | 08'01"X09'06" | 05'02"X08'00" |
| 00'06" | 00'02" | 00'09" | 00'03" |
| 03'07"X03'08" | 00'19"X00'24" | 04'04"X07'01" | 01'04"X01'04" |
| 02'10"X00'11" | 02'05"X03'09" | 01'09"X03'01" | 02'04"X03'10" |