---
It's Summer Rug Washing Time at The Magic Carpet
The Magic Carpet brings over 34 years of experience to professionally washing and repairing Oriental rugs. Properly cleaning your rugs is one of the best things you can do for them!
Removes compacted dirt that can damage fibers.
Offers an opportunity to catch and correct problems early.
Washes out odors and stains.
Extends longevity, preserves value and makes rugs sparkle!
We suggest having your rugs professionally hand-washed every two to four years, depending on their usage. Please call to schedule a pickup and delivery, or bring your rugs to the shop.
---
VIEW FULL COLLECTION
DISCOUNT AND SUPER SALE RUGS
Since 1980, The Magic Carpet has taken great pleasure in providing the community with a unique collection of antique, semi-antique and new Oriental rugs, with a special emphasis on one-of-a-kind tribal rugs. Come in and explore the fascinating world of Oriental rugs and feast your eyes on treasures from the East: Turkey, Russia(Caucasus), Persia(Iran), Afghanistan, Pakistan, India, Tibet, Nepal and China.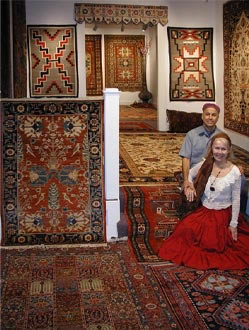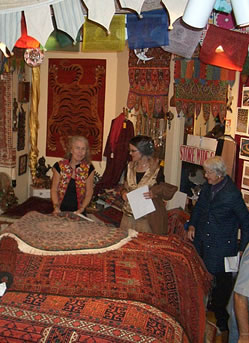 In addition, The Magic Carpet offers:
We look forward to exploring the wonderful art and culture of Magic Carpets with you!
The Magic Carpet
Paul and Eileen Jorgensen
Peter Cohen and Carolien van Straten
---
A Green Investment ~ Rugs For A Lifetime!
If you'd like to be added to our mailing list to receive announcements of future
store events and sales, please follow this link.
---

| | | | |
| --- | --- | --- | --- |
| 04'00"X06'07" | 02'09"X03'05" | 08'04"X10'00" | 06'01"X08'02" |
| 04'00"X04'00" | 05'00"X08'00" | 02'09"X18'10" | 04'01"X05'09" |
| 00'03" | 00'05" | 01'10" | 00'08" |
| 01'03"X01'04" | 01'02"X01'03" | 04'11"X06'10" | 02'11"X03'00" |
| 00'08" | 02'01"X03'07" | 01'10"X02'08" | 01'10"X03'00" |