---
Saturday, May 7 & Sunday, May 8, 2016
Dear Oriental Rug Lovers,
We are excited to invite you to The Magic Carpet's Oriental Rug Appraisal Weekend, May 7 and 8, 2016!
Join us from 1:30 to 3:30 on Saturday and Sunday and take advantage of a special opportunity to get a free verbal Oriental rug appraisal. Certified appraiser Paul Jorgensen will assess your rug's value and share his expertise with you. Call early to reserve your spot: (530) 265-9229.
Saturday, May 7, 7-8pm
We also invite you to come enjoy our extraordinary "Woven Splendor" exhibit and tour, showcasing a selection of our finest vegetable dyed, hand knotted rugs. Learn about what goes into the creation of an Oriental rug, and why masterpieces of "art under foot" like these have been so highly valued for over 2,500 years! The tour is on Saturday, May 7, 7:00pm-8:00pm. The exhibit will be on display through May.
In addition, we are offering a new hand picked collection of Tibetan artifacts from Paul and Eileen Jorgensen's recent journey to India which includes nine-metal singing bowls, pendulums, dorjes, bells, healing sticks, crystals, and a unique assortment of handmade jewelry.
All events are free and open to the public. We look forward to seeing you!
---
VIEW FULL COLLECTION
DISCOUNT AND SUPER SALE RUGS
Since 1980, The Magic Carpet has taken great pleasure in providing the community with a unique collection of antique, semi-antique and new Oriental rugs, with a special emphasis on one-of-a-kind tribal rugs. Come in and explore the fascinating world of Oriental rugs and feast your eyes on treasures from the East: Turkey, Russia(Caucasus), Persia(Iran), Afghanistan, Pakistan, India, Tibet, Nepal and China.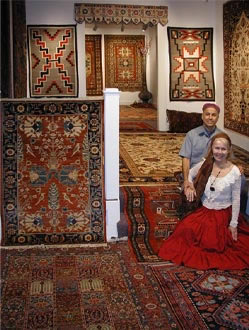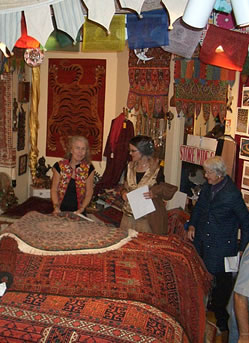 In addition, The Magic Carpet offers:
We look forward to exploring the wonderful art and culture of Magic Carpets with you!
The Magic Carpet
Paul and Eileen Jorgensen, Owners
Peter Cohen and Carolien van Straten, Managers
---
A Green Investment ~ Rugs For A Lifetime!
If you'd like to be added to our mailing list to receive announcements of future
store events and sales, please follow this link.
---
Dear Oriental Rug Lovers,
On May 9th, 2015, The Magic Carpet presented an exciting Turkish travelogue and opened the exhibit, DOBAG Rugs: Returning to the Roots of Vegetable Dyes. Paul and Eileen Jorgensen shared their recent reunion with the women of the DOBAG Rug Weaving Cooperatives in Turkey. Their journey went from Istanbul through the Yuruk mountain villages where master weavers create magnificent rugs using hand-carded, hand-spun, and vegetable dyed wool.
Read more about the DOBAG presentation and The Jorgensens' journey.
If you'd like to be added to our mailing list to receive announcements of future store events and sales, please follow this link.
---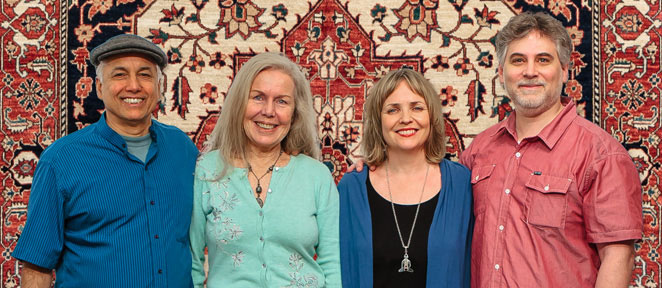 RE-OPENED UNDER NEW MANAGEMENT
Dear Nevada County Community and Friends World-Wide,
While planning for our retirement, we began a conversation with two of our friends and rug lovers who like many customers expressed their desire to see the Magic Carpet, a landmark of Nevada County, somehow continue. That conversation grew into a plan, and now it's a reality!
With great excitement and joy, we would like to announce the re-opening of The Magic Carpet under the capable management of Peter Cohen and Carolien van Straten on February 15, 2013.
We will continue to support the shop's success as buyers, appraisers and consultants, traveling the world and sending back beautiful hand-knotted rugs and ethnic artifacts for our distinctive customers.
Peter and Carolien will bring their enthusiasm and expert guidance to customers at the store and they invite you to stop by and say hello.
We would like to express heartfelt gratitude for all the wonderful support received and delightful friendships enjoyed during our long journey as owners of the Magic Carpet in Nevada City for the past 33 years.
Blessings,
Paul and Eileen Jorgensen
---

| | | | |
| --- | --- | --- | --- |
| 02'02"X03'10" | 04'11"X06'05" | 06'02"X08'11" | 04'01"X06'01" |
| 06'00"X09'00" | 02'10"X04'03" | 06'04"X06'08" | 06'00"X07'10" |
| 00'04" | 00'08" | 00'09" | 00'09" |
| 01'08"X05'04" | 01'09"X01'11" | 02'08"X02'09" | 04'02"X06'02" |
| 02'06"X03'07" | 02'10"X00'11" | 02'00"X03'07" | 01'09"X01'09" |