---
The Magic Carpet invites you to celebrate Spring and enjoy a 20% off, storewide sale, from Monday, May 14th, through Friday, June 15th, 2018!
The Magic Carpet continues its dedication to supporting the extraordinary art of hand-knotted, vegetable dyed rugs, with every Cultural Survival Project rug sold benefiting the women weavers and their communities. These projects greatly increase the weavers' access to quality education and health care, especially helping girls and women, reducing poverty and increasing quality of life.
With the generous support of Magic Carpet customers, over the past year we have funded the education of 8 girls through high school in Afghanistan and Pakistan, and set up a computer lab with thirty thin-client computers for the Hassan School in India.
This Mother's Day, our specific focus is to continue raising money to fund computer labs for schools in the poor rural villages of Karnataka State, India. The inspiring concept of this school system is to provide free quality education and free room and board to children in these under represented communities.
It is our belief that quality education for all our children will transform families, society and the world, bringing about more awareness, compassion and love.
---
We invite you to peruse over 40 woven masterpieces in a new, 'Best of the World' exhibit at our gallery at 408 Broad Street, Nevada City.
The exhibit will showcase vibrant, tribal vegetable dyed rugs, decorative antique masterpieces, and striking Navajo weavings.
We look forward to seeing you!
---
VIEW FULL COLLECTION
DISCOUNT AND SUPER SALE RUGS
Since 1980, The Magic Carpet has taken great pleasure in providing the community with a unique collection of antique, semi-antique and new Oriental rugs, with a special emphasis on one-of-a-kind tribal rugs. Come in and explore the fascinating world of Oriental rugs and feast your eyes on treasures from the East: Turkey, Russia(Caucasus), Persia(Iran), Afghanistan, Pakistan, India, Tibet, Nepal and China.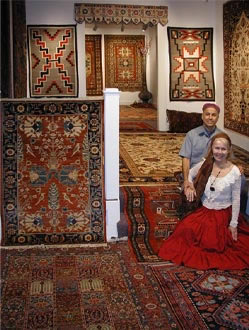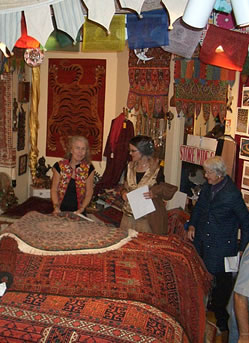 In addition, The Magic Carpet offers:
We look forward to exploring the wonderful art and culture of Magic Carpets with you!
The Magic Carpet
Paul and Eileen Jorgensen
Peter Cohen and Carolien van Straten
---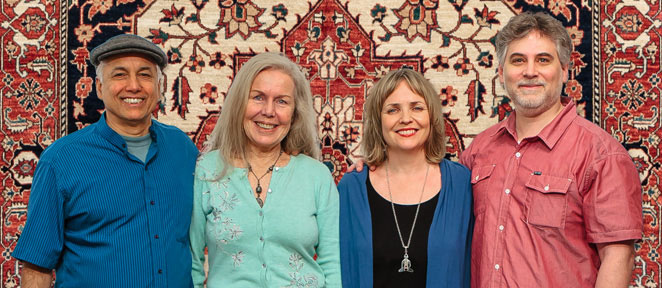 COME VISIT THE MAGIC CARPET!
---
A Green Investment ~ Rugs For A Lifetime!
If you'd like to be added to our mailing list to receive announcements of future
store events and sales, please follow this link.
---

| | | | |
| --- | --- | --- | --- |
| 02'06"X10'00" | 01'11"X04'03" | 02'09"X04'03" | 02'07"X04'01" |
| 06'03"X06'11" | 02'07"X09'09" | 05'11"X08'10" | 02'08"X09'11" |
| 00'09" | 00'06" | 01'10" | 00'05" |
| 01'10"X01'10" | 01'02"X01'10" | 01'03"X01'04" | 02'05"X03'03" |
| 02'04"X03'05" | 02'05"X03'09" | 02'05"X03'08" | 01'06"X03'05" |